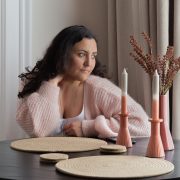 My name is María Belén, I am graphic designer and I have 10 years of professional experience, especially in logo design & visual branding. 
I am from Argentina but since 2021 I have settled in Romania, my new home with my husband Sergiu Ilisie.
My clients are small or medium companies or institutions. Some are from Romania, but most of them are from Argentina. Some are at the begginings, others have longer trajectories. But one thing is same here and everywhere in this world: a strong visual identity and  the correct work in image and comunication are esential for the better development and growing of a business.  
Do you want to take your business to a higher level? Do you need a professional and creative comunication?